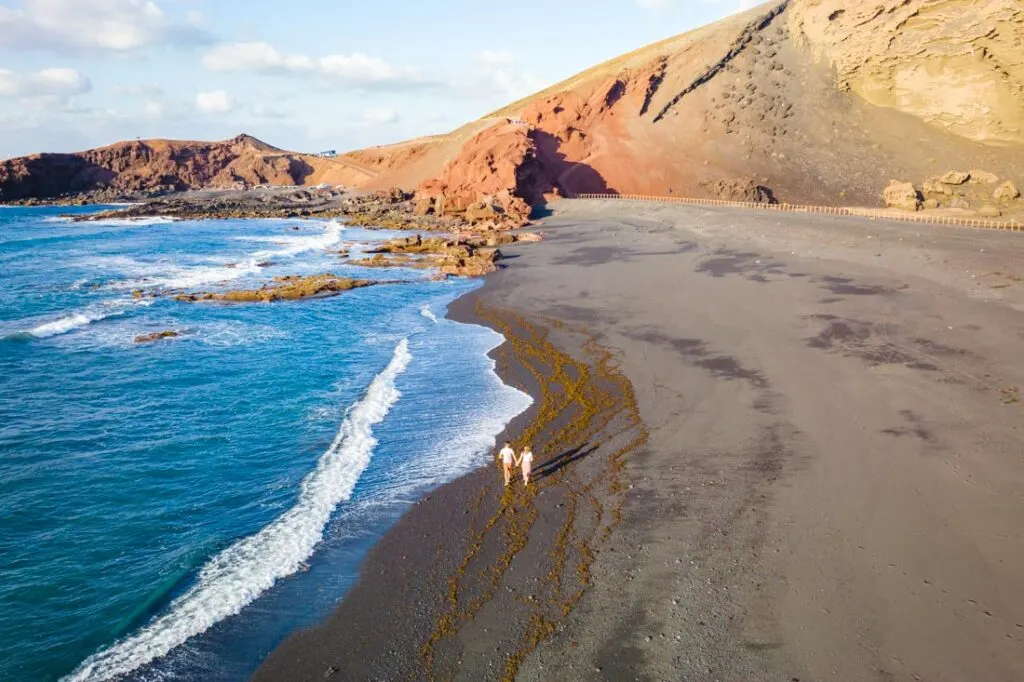 Lanzarote is a paradise in the Canary Islands and in it you will find virgin beaches, more urban beaches, calm waters, rougher waters… but without a doubt they all have something special. In this post I tell you which are the most beautiful beaches in Lanzarote and what you cannot miss.
1. Papagayo Beach
You will find it in the south of the island and it is undoubtedly the most beautiful in Lanzarote.
Looking around, one only contemplates the immensity of a practically virgin and desert landscape, with fine, clear sand of a tan tone and intense turquoise water.
It is a perfect beach to go with children as it barely covers the first few meters and the water is usually very calm. All year round you will find a perfect water temperature for bathing. My last trip to Lanzarote at the end of November we found this wonder, with hardly any people, with a great temperature, sun and cool water that invited you to bathe.
On the beach and nearby rocks you can find crabs, as well as being able to snorkel. Without a doubt, you cannot miss enjoying a day at Playa Papagayo.
2. Famara Beach
Impressive! It is one of the most beautiful beaches in Lanzarote and the Canary Islands. It is 6km long and has golden sand that stands out with the reddish mountains that surround it and the blue of the sea.
It is a wild beach with a practically virgin environment. It is a good option for surfers, although you can also enjoy it with the little ones, small natural pools are created when the tide rises. You can't miss this place.
3. Garita Beach
This suburban beach is quiet with few tourists and is perfect for surfers. Although there are not always great waves, it is one of the best places to surf on the island.
It is located in the Arrieta area.
The landscape that you find is a large beach with dark sand and small rocks, with a small white town that dots the desert area. Peace is breathed.
4. Jablillo Beach
Jablillo beach is a kind of natural pool thanks to the breakwater. Turquoise water and fine, toasted sand. It is tiny, about 150 meters long.
It is a quiet area, although as it is close to hotels it is more popular and crowded.
The coastal strip that surrounds the Jablillo beach has a rich seabed, making it one of the favorites for snorkeling, diving and underwater photography.
It is located at the southern end of the Costa Teguise and is a good option and area to stay.
5. Flamingo Beach
If you want to stay near a beautiful beach, Playa Flamingo offers you the possibility of not having to take the car to get there.
It is located in the Playa Blanca area, and it is an urban beach of about 200 meters in length. With calm waters thanks to the breakwater and turquoise blue.
It is a very crowded beach, but at the same time very quiet and familiar. You can eat in one of its bars or restaurants, shop in its stores and do activities such as paddle surfing, among others.