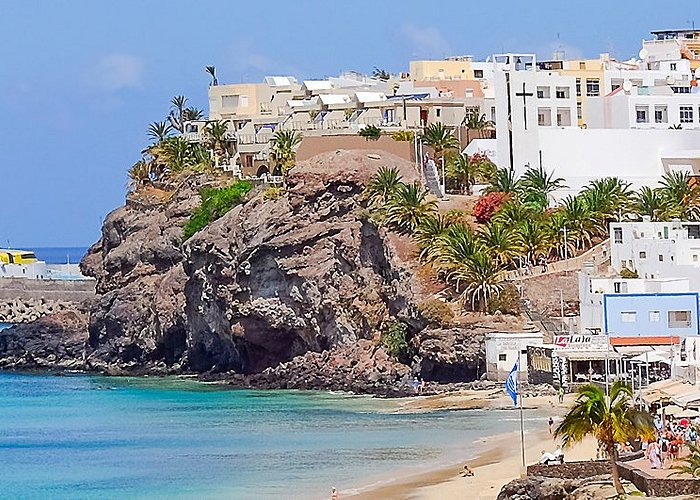 Fuerteventura, together with Lanzarote, are my favorite places in the Canary Islands . I usually visit them a lot, they are my escape when I want to disconnect, spend a few days at the beach or surfing.
Fuerteventura is known for its idyllic beaches, its waves to surf and for having many interesting and beautiful places to see throughout the island.
The list of places to visit in Fuerteventura is huge ; from desert areas, winding roads, beaches, towns, lighthouses… In this post I tell you the 10 best and most beautiful places to see in Fuerteventura + some more . I also include some links to recommended activities and the best areas and hotels to stay.
Fuerteventura has something that makes you fall in love and you want to repeat. If you are thinking of traveling to the Canary Island for the first time, I warn you that it is addictive. For those of you who always ask me when it is better to travel,  you can travel to Fuerteventura all year round if you find good weather. I have always traveled in the months of October and November, and I have had great weather to enjoy the island, the sea, surfing.
1. Most beautiful beaches in Fuerteventura
One of the claims of the island are its spectacular beaches.
On the island you will find more urban beaches, deserted and virgin beaches and areas that seem from another planet.
Some of the beaches that you cannot miss are; Cofete beach, Sotavento beach, Mal Nombre beach, El Matorral beach, Risco del Paso beach, Corralejo beaches, Alzada beach, La Concha beach, Aguila beach, del Aljibe, the Castillo beach, the Charcos beach, the Jandia beaches and the Cotillo beach.
And if you dare to get to know the Isla de Lobos, here the beaches are beautiful and with a turquoise tone that makes you think that you are in the Caribbean.
2. The landscapes of Corralejo
One of the places I like the most on the island is Corralejo. Here you find a desert landscape of toasted dunes, which contrast with the black volcanic rocks and the turquoise blue of the sea.
There are beautiful beaches in this area, so when you get here, park right next to the road and go down to one of its beaches to enjoy this wonder.
Sin Dunas de Corralejo, in addition to being one of the essential places to see in Fuerteventura, are one of the most important icons of the island . A spectacular Natural Park , about 8 kilometers long that you cannot miss.
3. Lighthouses of Fuerteventura
I don't know what it is about headlights that attracts us all. In Fuerteventura there are several that you can get to know and enjoy the coastal landscape that surrounds it. They are a perfect and romantic enclave to get closer to watch sunsets. There are several beautiful ones on the island, but the most beautiful are: La Punta Pesebre, el Toston, la Entallada and Punta Jandia.
4. Visit Betancuria, the most charming town in Fuerteventura
All the towns of Fuerteventura have something special, but without a doubt, Betancuria is the most beautiful and charming town on the island.
Its cobbled streets invite you to walk calmly, with no time limit, while enjoying the beauty that it keeps in each of its corners. You can buy some handicrafts, souvenirs, have a drink in the Plaza de Santa Maria de Betancuria and visit the church.
5. Calderon Hondo
The Canary Islands are of volcanic origin and in them you can see volcanoes, lava remains, volcanic rocks… they are exceptional landscapes worth admiring. In Fuerteventura is the impressive Calderon Hondo Volcano. To get to it you can take a beautiful route on foot through the volcanic area that surrounds it. Once you arrive you can ascend to the highest part. And lean out to see part of the crater.
6. Ajuy Caves
In the Rural Park of Betancuria is one of the essential places to visit in Fuerteventura; the Natural Monument of the Caves of Ajuy . It is a series of black basalt caves, about 40 meters high and with whimsical shapes, located on the shores of the Atlantic Ocean.
To get there you must walk up a path located on a petrified dune.
7. Jandia Peninsula and the impressive beach of Cofete
One of the most iconic and beautiful places in Fuerteventura is the Jandia Peninsula, located in the south of the island. An extensive , practically virgin Natural Park , which preserves its essence intact and where you can enjoy a special magic. On this peninsula you can enjoy some of the most beautiful beaches in Fuerteventura, such as Roque del Moro or Playa de Cofete .
During the journey until you reach Cofete beach you can enjoy spectacular views and several viewpoints. Don't miss them! Stop at each of them and take advantage, these views are impressive and unique.
8. Viewpoints of Fuerteventura that you cannot miss
The FV-30 is a winding road that crosses the Betancuria Rural Park and offers impressive views of this area of ​​Fuerteventura. At various points you will find viewpoints from which to enjoy this wonder.
9. The Wall
In the town of La Pared you will find one of the most beautiful landscapes in Fuerteventura. Numbers of beautiful beaches, high cliffs, an intense turquoise sea… this place cannot be described in words because it is spectacular. In addition, it is a very quiet area, with hardly any people, where you can walk, surf, sunbathe and enjoy this wonder listening to the waves of the sea.
10. Visit Lobos Island
From Fuerteventura one of the best excursions you can do is to visit Isla Lobos.
Isla Lobos is a small islet of 4.5 square kilometers located in front of Corralejo and that owes its name to the colony of monk seals that inhabited it not so long ago. Today it is a nature reserve in charge of the Ministry of the Environment, which cannot be visited without a special permit that gives you access to the island for a maximum of 4 hours.
It is not possible to spend the night on Isla Lobos, there are many interesting and fun excursions to visit this island.